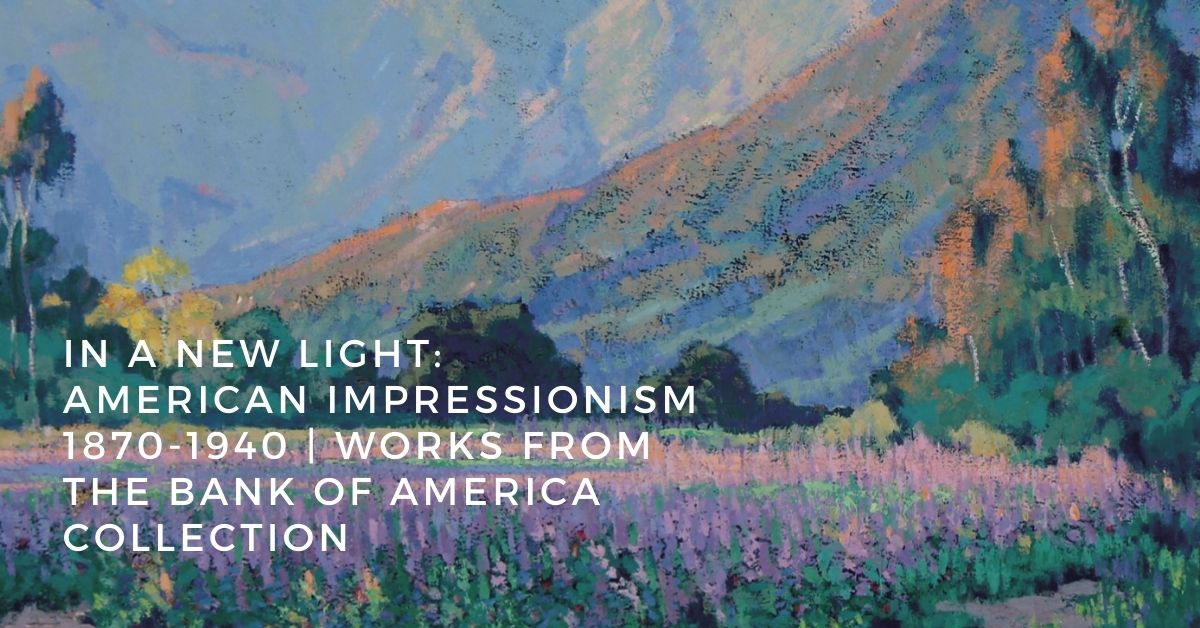 In a New Light: American Impressionism 1870–1940
Runs

Saturday, February 12

–

Saturday, April 16, 2022
On Exhibition in the the:
Esther B. O'Keeffe Gallery: All Galleries
A sweeping survey of American Impressionism, In a New Light: American Impressionism 1870–1940, presents paintings, prints, and drawings from acclaimed artists such as George Innes, Childe Hassam, Thomas Moran, John Sloan, Ernest Lawson, Daniel Garber, and Guy Carleton Wiggins, among others.
This comprehensive exhibition traces the emergence and evolution of a truly American style in 130 works by more than 75 artists. It provides a thought-provok- ing historical context for American Impressionism by positioning it between the Hudson River School and the modernist trends evident in later pieces on view.
In a New Light reflects the changing mindset of America from the mid-19th to early 20th centuries. The exhibition concentrates on regional art colonies that were crucial to the American Impressionist movement, from the Northeast to the Midwest and the American West. A tranquil place for artists to share ideas and resources, these collaborative enclaves were often established in rural areas of great natural beauty, yet not far from growing urban centers. In a New Light explores the ways in which local artists interpreted America's rural, maritime, and urban spaces and portray daily life using the Impressionistic devices of capturing moments with brisk brushstrokes, a vibrant palette, and atmospheric effects.
In a New Light: American Impressionism 1870– 1940 has been loaned through the Bank of America Art in our Communities program.
DOCENT TOURS
Docent-led tours of the exhibitions occur at 10:30 a.m. Wednesdays and 11 a.m. Saturdays, and are available on a first-come, first-served basis. The tour is included in the price of admission.
PLEASE NOTE
No liquids of any kind are allowed in the Four Arts galleries. Visitors may make drawings/sketches after works on display with pencils only — no pens or colored pencils allowed — and the drawings/sketches must be in notebooks or small pieces of paper. Visitors may not use easels, drawing boards, stools, or our gallery benches as part of their drawing/sketching activities.
RELATED PROGRAMS
Lecture: Jennifer S. Brown, Art Program Curator at Bank of America
Recorded April 4, 2022 at 11 a.m.
Suggested reading from Jennifer Brown, Ph.D., Bank of America Art Program Curator:
Agee, William C. and Susan C. Faxon, Coming of Age: American Art, 1850s to 1950s. New Haven and London: American Federation of Arts in Association with Yale University Press, 2006.
Burdan, Amanda C., et al., America's Impressionism: Echoes of a Revolution. Brandywine River Museum of Art, 2020.
Gerdts, William H. American Impressionism. 2nd ed. New York: Abbeville Press, 2001.
O'Toole, Judith H., Different Views in Hudson River School Painting. New York: Columbia University Press, 2005.
Weinberg, H. Barbara, Doreen Bolger, and David Park Curry. American Impressionism and Realism: The Painting of Modern Life, 1885–1915. Exhibition catalogue. New York: Metropolitan Museum of Art, 1994.