Reserve or Purchase Tickets
Four Arts members and the public now may reserve or purchase tickets to all Fine Arts, Performing Arts, Campus on the Lake, and King Library programs.
To view Folios, monthly schedules, or the 2022-2023 Season Programs guide, go to issuu.com/fourarts.
TICKETS & RESERVATIONS
Tickets may be reserved via the Four Arts App, online, by phone, or in person.
APP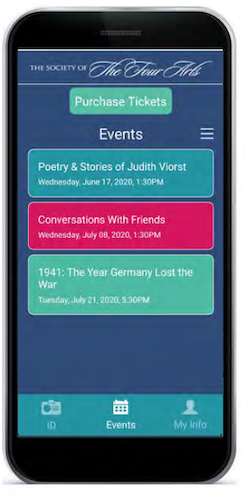 Take The Four Arts with you on your smartphone! Available from the Apple App store, The Four Arts app allows you to:
■ Purchase tickets
■ View your reserved or ticketed events
■ Scan in using a digital ticket
■ Receive event reminders
■ Confirm or cancel tickets via text message
■ Members can carry membership card digitally
Please note: You will need a Four Arts tickets login to use the app. Select here to register or call Customer Service at 561-655-7226 for assistance.
ONLINE
Purchase tickets here. Please see the videos below for added assistance.
(Please note: charges will appear as Audience View on your credit card statement, showing a charge out of Bangor, Maine. For banks that support the use of dynamic statement descriptors, a charge from Four Arts will appear as TIX * FOUR ARTS. For those banks that do not allow dynamic descriptors, they may show any of a variety of things, from UNIV TIX, to TIX * UNIV TIX, etc.)
CALL
(561) 655-7226 weekdays from 10 a.m. to 5 p.m.
IN PERSON
Visit the Dixon or Gallery Building box offices
GUBELMANN AUDITORIUM SEATING CHART
Please click here to view the seating chart
Logging in as a Patron of the Four Arts
Logging in as a Member of the Four Arts
How to Register/Get Tickets to an Event