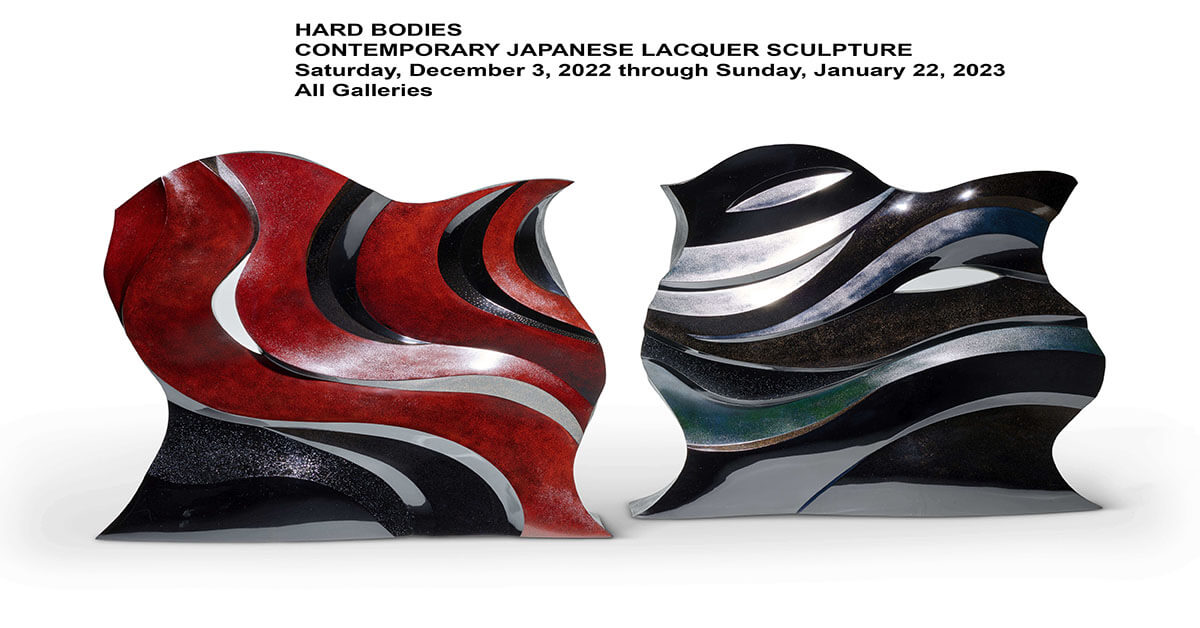 Hard Bodies: Contemporary Japanese Lacquer Sculpture
Runs

Saturday, December 3, 2022

–

Sunday, January 22, 2023
PURCHASE TICKETS
On Exhibition in the Esther B. O'Keeffe Building: All Galleries
Hours: Sunday – 1 to 5 p.m.; Monday – 10 a.m. to 5 p.m.; Tuesday – Four Arts members only, 1 to 5 p.m.; Wednesday through Saturday – 10 a.m. to 5 p.m. Closed Nov. 25, Dec. 25, and Jan. 1.
Lacquer is a tradition nearly as old as civilization itself. Since Neolithic times, artisans in East Asia have used the toxic sap of the lacquer tree (toxicodendron vernicifluum) to coat and bond together wood, bamboo, textiles, and ceramics to make utilitarian and ritual items. The natural polymer refined from the sap forms a durable, waterproof surface that protects and beautifies. Lacquerware was — and still is — prized for its sheen, which artists have learned to accentuate over the centuries with inlaid gold, silver, mother-of-pearl, and other precious materials.
Since the late 1980s, this tradition has been challenged. A small but enterprising circle of artists began pushing the medium in entirely new and dynamic directions by creating large-scale sculptures, works that are both conceptually innovative and superbly exploitative of lacquer's natural qualities. These artists mastered lacquer's demanding techniques while successfully altering its age-old perception by expanding boundaries and defying expectations.
Organized by the Minneapolis Institute of Art, the 33 works by 16 artists in Hard Bodies constitute the first-ever comprehensive exhibition of contemporary Japanese lacquer sculpture. All the works are from MIA's Clark Collection, which is named for longtime Japanophiles Willard and Elizabeth Clark, who donated over 1,700 artworks to MIA in 2013. The Clark Collection is the only collection in the world to feature this extraordinary new form.
Hard Bodies: Contemporary Japanese Lacquer Sculpture is organized by the Minneapolis Institute of Art and toured by International Arts & Artists, Washington, DC.