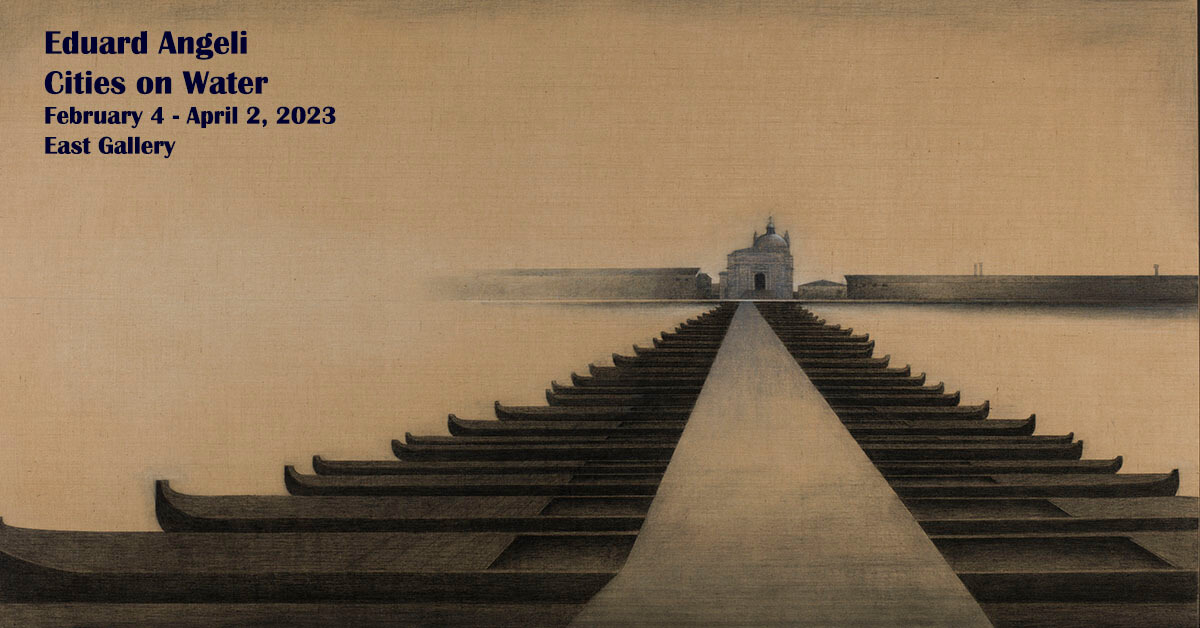 Eduard Angeli: Cities on Water
Runs

Saturday, February 4

–

Sunday, April 2, 2023
PURCHASE TICKETS
On Exhibition in the Esther B. O'Keeffe Building: East Gallery
Hours: Sunday – 1 to 5 p.m.; Monday – 10 a.m. to 5 p.m.; Tuesday – Four Arts members only, 1 to 5 p.m.; Wednesday through Saturday – 10 a.m. to 5 p.m.
Eduard Angeli (b. Austria, 1942) began spending summers in Venice, Italy in 2002 and 2003 and in 2004 he went there to live. Before this he had lived, and painted, in Istanbul and more recently sojourned for a long period in St. Petersburg. Hence the title of this exhibition, with eighteen large works depicting motifs from these three cities.
He is a landscape painter in his favored medium of charcoal. His motifs derive from but do not copy nature. They instead convey 'ideas', or realities beyond appearances: ideas that Descartes would classify as 'adventitious' and which evoke hidden and mysterious sensations. This places him in a line of descent from 19th century Symbolism and the 'metaphysical' painting of Giorgio de Chirico. In particular his somber scenes, deprived of human beings, echoing what commentators of Edward Hopper's art call "the loneliness thing", express a delicious, sentimental melancholy, just as de Chirico's paintings do. The fog and the dark palette in his image of Palladio's Redentore convey the 'idea' that this is a votive church commemorating Venice's survival of the plague in 1576: the Giudecca Canal doubles as the River Styx.
Angeli is highly successful in his native capital of Vienna, where he has been given exhibitions in the Rupertinum, the Historisches Museum, the Belvedere and the Albertina (twice). He has also exhibited in the Museo Correr in Venice, and spent 10 years as a Board member of Vienna's University of Applied Arts. This is Angeli's first exhibition in the United States and The Four Arts is proud and grateful that the artist has conceded this honor to Palm Beach.
This exhibition is curated by Philip Rylands, President and CEO of The Society of the Four Arts, and organized by The Four Arts.