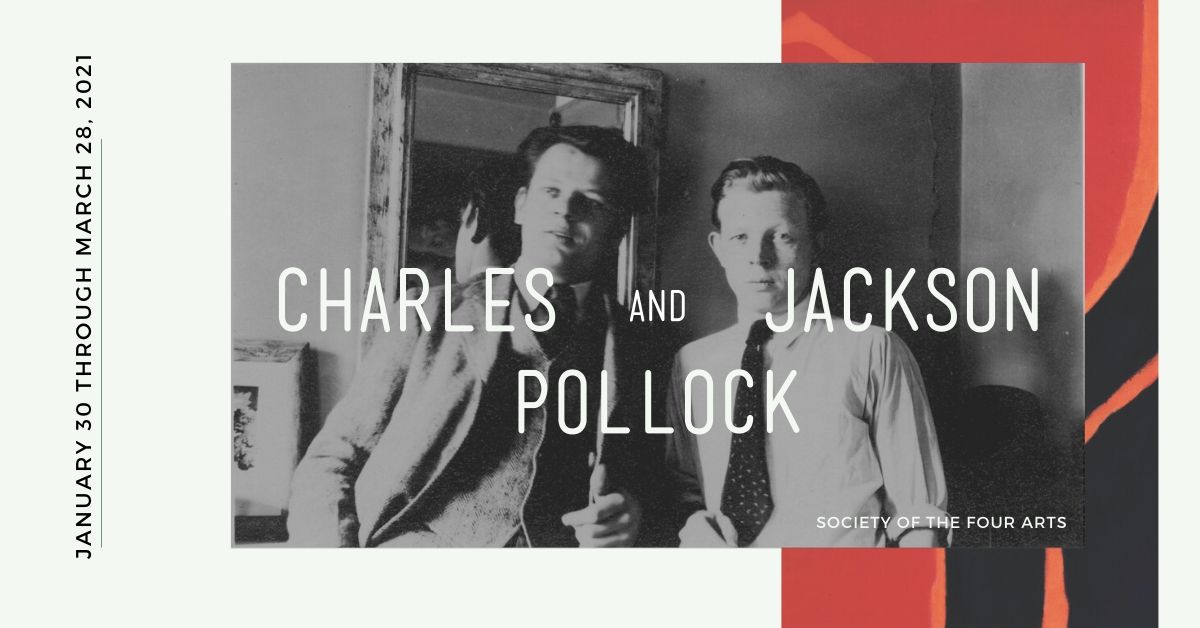 Charles and Jackson Pollock
Runs

Saturday, January 30

–

Sunday, March 28, 2021
On Exhibition in the the:
Esther B. O'Keeffe Gallery: North, Main and South Galleries
Charles Pollock (b. Denver, Colorado, 1902–1988) was the eldest of five boys (his youngest brother was Jackson, b. Cody, Wyoming, 1912–1956). Charles moved to New York in 1926 to study under Regionalist painter Thomas Hart Benton at the Art Students League and in 1930 persuaded 18-year-old Jackson to join him.
Each was strongly influenced by Benton and both were admirers of the Mexican muralists, but while Charles adopted Benton's American scene painting, Jackson was more interested in the symbolic and mythical content of the Mexicans.
Their pursuits diverged but each found a path towards abstraction. Charles worked for the Resettlement Administration and Federal Arts Project before settling in East Lansing, where he taught at Michigan State University for nearly three decades.
Jackson stayed in New York and was central to the development of Abstract Expressionism, the first American avant-garde of international influence: his 'myth' paintings in the early 1940s inspired by Native American art, Picasso and Miró; the patronage of Peggy Guggenheim from 1943 onwards; from 1943 his practice of semi-figured abstraction on outsize canvases of 'all-over' compositions; from 1947 his radical technique of dripped and poured painting. Charles' transition to abstraction came later; he developed an abstract visual vocabulary in the mid-1940s, and painted powerful images, defined by Clement Greenberg as 'color-field', until his death in Paris in 1988.
In addition to approximately 70 paintings and works on paper by 'Pollock the Elder', the exhibition presents a small, even intimate selection of works revealing a Jackson Pollock little known to the general public: paintings, drawings including one of only two surviving notebooks of the 1950s (only once shown in public before), his sole surviving sculpture, virtually his entire production of prints (monotypes, etchings produced in the studio of Stanley William Hayter and silkscreens of his 'black paintings' created with the help of another brother, Sanford McCoy), and a pair of low four-legged, paint-spattered stools immortalized in photographs by Hans Namuth and Arnold Newman of Pollock at work in his long Island barn-studio.
Charles and Jackson Pollock is curated by Philip Rylands and Otto Hübner and organized by The Four Arts.
TOURS
Small group tours of Charles and Jackson Pollock
Saturdays at 11 a.m. with Ed Lamont
Capacity limited to 10 • Tour included with regular Art Exhibition admission
Reservations recommended • Call (561) 655-7226 or visit the Box Office
Ed Lamont guides Talk of Kings book discussions at The Society of the Four Arts, serves as a docent at the Flagler Museum, leads tours of the Breakers Hotel, and has been a guest history lecturer at Palm Beach Atlantic University.
A virtual tour of this exhibition is available here.