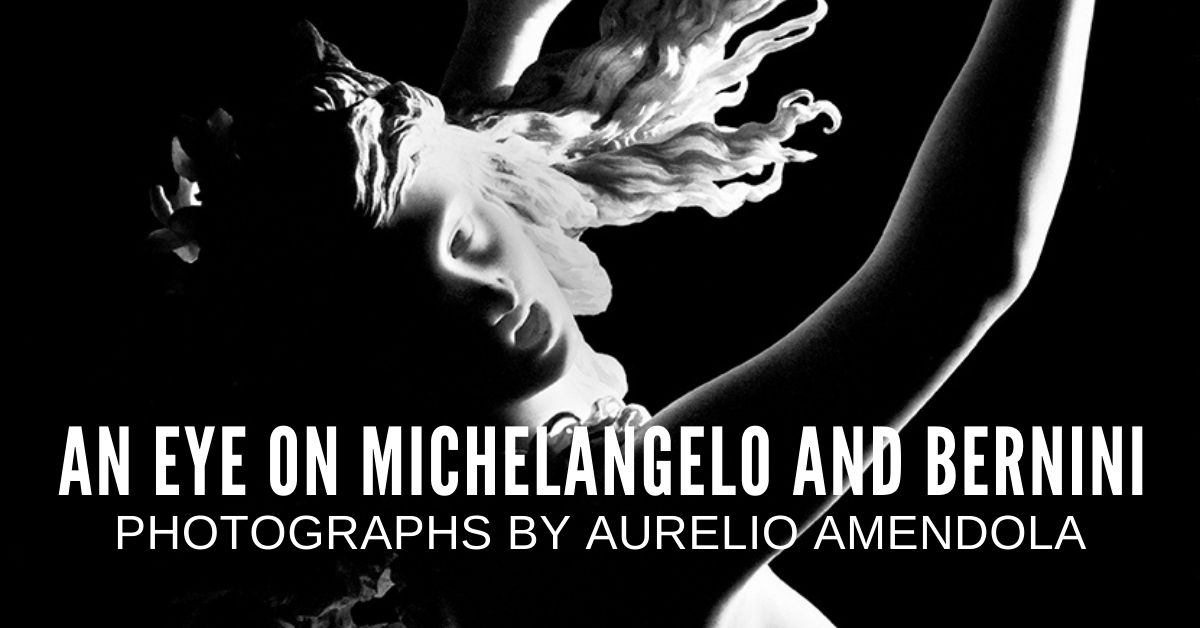 An Eye on Michelangelo and Bernini: Photographs by Aurelio Amendola
Runs

Saturday, November 13, 2021

–

Sunday, January 30, 2022
On Exhibition in the Esther B. O'Keeffe Building: East Gallery
Hours: Sunday – 1 to 5 p.m.; Monday – 10 a.m. to 5 p.m.; Tuesday – Four Arts members only, 1 to 5 p.m.; Wednesday through Saturday – 10 a.m. to 5 p.m. Closed Nov. 25, Dec. 25, and Jan. 1.
This special exhibition developed by the Fine Arts Department features 30 stunning black and white photographs by Aurelio Amendola, a prolific contemporary photographer from Italy.
While Amendola has devoted his career to capturing the likeness of major protagonists in 20th-century art such as De Chirico, Lichtenstein, Pomodoro, and Warhol, he is also well known for his photographs documenting the works of great masters of the Italian Renaissance like Jacopo della Quercia, Donatello, and Michelangelo.
This exhibition features photographic details of some of Michelangelo's most beloved pieces — David, Pietà, Moses, Victory, and figures from the Tombs of Giuliano di Lorenzo de' Medici and Lorenzo di Piero de' Medici — alongside details of Bernini's Damned Soul, David, Apollo and Daphne, Rape of Persephone, and Aeneas, Anchises, and Ascanius.
While some of Amendola's compositions reveal Michelangelo's and Bernini's mastery of carving in marble, others are severely cropped into dramatic abstractions. These abstracted visions underscore his lifelong exploration with juxtapositions of light and shadow.
A consummate experimenter, Amendola's photography practice blends tradition and modernity with great intensity, grace, and melody. Printed in large format on aluminum, the photographs in An Eye on Michelangelo and Bernini show the intimate dialogue Amendola shares with the artists and unveil the style and intensity of the Italian masters from the personal point of view of the photographer.
An Eye on Michelangelo and Bernini was organized by The Society of the Four Arts, thanks in part to an anonymous grant.
DOCENT TOURS
Docent-led tours of the exhibitions occur at 10:30 a.m. Wednesdays and 11 a.m. Saturdays, and are available on a first-come, first-served basis. The tour is included in the price of admission.
RELATED PROGRAMS