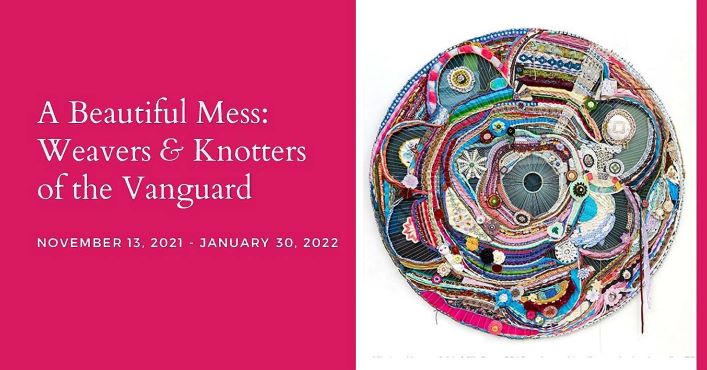 A Beautiful Mess: Weavers & Knotters of the Vanguard
Runs

Saturday, November 13, 2021

–

Sunday, January 30, 2022
On Exhibition in the Esther B. O'Keeffe Building: North, Main and South Galleries
Hours: Sunday – 1 to 5 p.m.; Monday – 10 a.m. to 5 p.m.; Tuesday – Four Arts members only, 1 to 5 p.m.; Wednesday through Saturday – 10 a.m. to 5 p.m. Closed Nov. 25, Dec. 25, and Jan. 1.
A Beautiful Mess: Weavers and Knotters of the Vanguard is a vibrant contemporary textile exhibition organized by the Bedford Gallery at the Lesher Center for the Arts in Walnut Creek, CA. It features a diverse selection of fiber arts including wall-hangings, installations, and monumental pieces.
Made by an all-female roster of conceptual artists, the exhibition showcases twisted, tied, and braided works made from tactile and utilitarian materials like rope, yarn, clay, and wire.
Collectively, they push the boundaries of fiber art and elevate the status of weaving and knotting from craft to fine art. The artists infuse their works with personal stories and socio-political concerns to further revolutionize the previously marginalized genre of fiber arts.
The Society for the Four Arts is the debut traveling venue for A Beautiful Mess, which will tour across the United States through mid-2024. The artists featured are Windy Chien, Kirsten Hassenfield, Dana Hemenway, Kira Dominguez Hultgren, dani lopez, Hannah Perrine Mode, Liz Robb, Meghan Shimek, Lisa Solomon, Katrina Sánchez Standfield, and Jacqueline Surdell.
The Four Arts is collaborating with Fiber Artists- Miami Association (FAMA) to highlight the talent of South Florida fiber artists in the companion exhibition Talking Threads: Dialogues with Weavers and Knotters of South Florida. It features works made by FAMA members who employ the same textile processes as the artists in A Beautiful Mess. While some FAMA artists drew upon their traditional practices, others created new pieces in direct response to A Beautiful Mess. FAMA is also contributing educational displays with images, text, video, and hands-on textile creations that explain the weaving and knotting techniques in the exhibitions.
Established in 2020, FAMA's mission is the education and advancement of the fiber arts as a contemporary art form. To learn more, please visit www.fiberartists-miamiassocation.com.
A Beautiful Mess: Weavers & Knotters of the Vanguard was organized by Bedford Gallery at the Lesher Center for the Arts, Walnut Creek, CA.
DOCENT TOURS
Docent-led tours of the exhibitions occur at 10:30 a.m. Wednesdays and 11 a.m. Saturdays, and are available on a first-come, first-served basis. The tour is included in the price of admission.