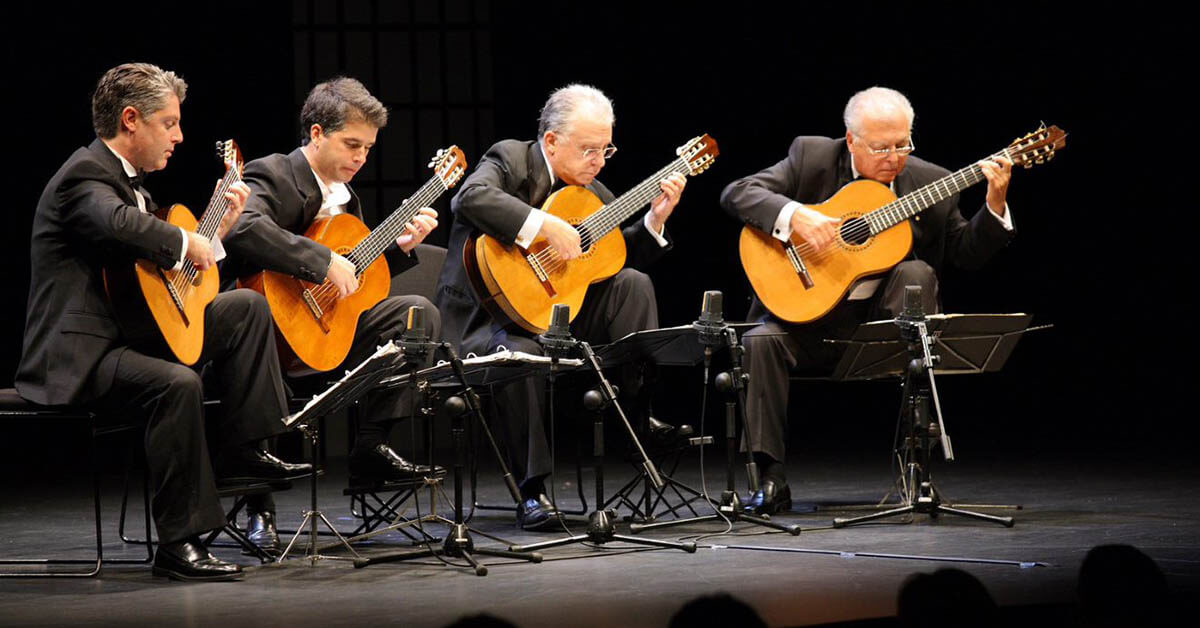 3:00PM
$40
No charge for Four Arts members
Known as "The Royal Family of the Guitar," the Romeros were founded by Celedonio Romero and his sons in 1958. The Quartet today consists of the second (Celin & Pepe) and third generations (Lito & Celino).  To have so many virtuosi of the same instrument in one family is unique. The New York Times has said: "Collectively, they are the only classical guitar quartet of real stature in the world today; in fact, they virtually invented the format." The Romeros have helped create an entirely new repertoire for guitar quartet, both as a chamber ensemble and as a concerto soloist, and have inspired distinguished composers to either write new works or arrange existing ones.
PROGRAM
The Romeros
60th Anniversary
Celin, Pepe, Lito and Celino Romero
Program Notes by Scott Cmiel
Please note: Angel Romero has generously offered to step in for Celin Romero for this performance.
The Romeros
Preludio from La Revoltosa
RUPERTO CHAPI Y LORENTE
(1851–1909)
Ruperto Chapi was a composer of Spanish Zarzuela, a form of musical theater that includes spoken and sung dramatic scenes with influences from both operatic and popular song as well as dances, choruses, and orchestral accompaniment. La Revoltosa is one of his most popular works and has been arranged for the Romeros by Lorenzo Palomo, a prominent Spanish conductor.
Celino and Lito Romero
Danza española No. 2
"Oriental"
Danza española No. 5
ENRIQUE GRANADOS
(1867–1916)
In the late nineteenth century Spanish musical taste was conservative and under the influence of foreign composers. The principal public musical entertainment was Italian opera while instrumental recitals featured the works of Chopin and Schumann. The musical nationalism that swept across Europe in the last decades of the nineteenth century led to the creation of characteristically Spanish musical theater works known as zarzuelas and to an interest in the historical and folk roots of Spanish music. Enrique Granados was one of the great figures of this renaissance of indigenous music. He was also inspiredby the grace, elegance, and sense of proportion of Spanish courtly life in the eighteenth century as depicted by Francisco Goya. Danzas Españolas were among his first important work. Spanish Dance #2 is subtitled "Oriental" and features a plaintive and somewhat exotic melody reminiscent of Arab music. Spanish Dance # 5 is the most celebrated piece in the set. The archetypal Spanish melody with subtle shifts between minor and major creates dramatic tension without ever losing a sense of courtly elegance.
(Arranged by Pepe Romero.)
Pepe Romero
Arroyos de la Alhambra
ANGEL BARRIOS
(1882–1964)
The son of a famous flamenco guitarist and singer, Angel Barrios studied in his native Granada, in Madrid and in Paris, associating with leading figures in the Spanish music of his time. He founded the Trio Ibéria of guitar, lute and bandurria, which won wide popularity for its performances of transcriptions of Spanish music. A friend of Manuel de Falla, he provided him with an important link to flamenco, while his own compositions for the stage, for orchestra, and for piano or guitar are imbued with the spirit of Granada.
Leyenda
Granada
ISAAC ALBÉNIZ
(1860–1909)
Isaac Albéniz was another one of the most significant figures in Spanish cultural circles at the close of the nineteenth century. A remarkable child prodigy, he ran away from home at age 12, sailed to Argentina as a stowawayand subsequently traveled to America, where he paid his way by playing the piano in honky tonks and spending some time playing at San Francisco's Fisherman's Wharf. On his return to Europe, he became a serious student of composition. He fell under the spell of Spain's indigenous music and was influenced to a high degree by both flamenco and the guitar. The legendary Francisco Tárrega made transcriptions of Albéniz's piano music, and an appealing though undocumented tale says that Albéniz, on hearing Tárrega's performance of his transcriptions, declared the music had found its rightful home. Tárrega's practice of performing Albéniz's music has been enthusiastically followed by guitarists
to this day. Albéniz's Suite Española, Op. 47 contains his most well-known music. Leyenda is a portrait of a legendary eighth century battle with a strikingly dramatic frame and an introspective, Moorish middle section. Granada, performed later in this program, is an idyllic serenade with wistful melody and simple harmonies which call to mind a solitary singer accompanying himself on the guitar.
(Arranged by Pepe Romero.)
Capricho árabe
FRANCISCO TÁRREGA
(1852–1909)
Francico Tárrega, a contemporary of Granados and Albéniz, was the first modern guitarist to gain recognition as an artist of the highest caliber. His compositions and arrangements are romantic vignettes featuring a Chopinesque cantabile melody and an elegant harmony. They exploit the rich sonorous potential of the modern guitar developed by Antonio Torres through the use of fingerings chosen for their coloristic effects. Capricho árabe is a lyrical evocation of Spain's Moorish past.
The Romeros
Introduction and Fandango from Guitar Quintetto No. 4
LUIGI BOCCHERINI
(1743–1805)
The Italian composer and cellist, Luigi Boccherini, served as composer for the royal court of Spain during much of his life. Although he thought of himself as introducing the early Classical style of Haydn to the unsophisticated Spanish, he was influenced by the country's indigenous music. At the request of an enthusiastic amateur guitarist and Spanish nobleman he began to incorporate the guitar into some of his music. The Introduction and Fandango was arranged by Boccherini for guitar and string quartet from the final movement of his String Quintet, Opus 40, No. 2. The Introduction is aristocratic, delicate and Rococo in style. The Fandango, in marked contrast, is wild and exuberant, a courtship dance in three-quarter time featuring colorful harmony and rhythmic vitality. It is said to have been influenced by the playing of the great Spanish guitarist Padre Basilio, music master to the queen of Spain and later teacher of Dionisio Aguado.
(Arranged by Pepe Romero.)
The Romeros
Miller's Dance from
El Sombrero de tres picos
MANUEL DE FALLA
(1876–1946)
Manuel de Falla is the acknowledged master of twentieth century Spanish music. His music passes from meditative repose to dynamic action with great rapidity and is marked by painstaking attention to detail and disciplined striving for perfection. His ability to absorb the essence of flamenco into his unique compositional voice is evident in his gypsy ballet, El Sombrero de tres picos. The exciting Miller's Dance is a passionate flamenco farruca.
(Arranged by Pepe Romero.)
Carmen Suite
Habanera
Chanson du toreador
GEORGES BIZET
(1838–1875)
Georges Bizet was a French composer of the Romantic era who died young but had a spectacular success with his opera Carmen, about a fiery gypsy woman and the young soldier who ruins his life in passionate pursuit. The two excerpts performed tonight are among the best known of all operatic arias. The Habanera, based on a traditional Spanish rhythm, is Carmen's dance of seduction. The Chanson du toréador, is the boastful song of the bullfighter, one of the young soldier's rivals for the affections of Carmen.
(arranged by Romero/Torroba)
Celin and Pepe Romero
Granada                                                                                                 Isaac Albéniz (1860-1909)
See notes on Isaac Albéniz
(Arranged by Pepe Romero.)
Celino Romero
La Paloma
SEBASTIÁN IRADIER
(1809–1865)
Sebastián Iradier was a Spanish Basque composer known primarily for his habaneras. La Paloma, written after a visit to Cuba was extremely popular in both Spain and the Americas. Another of Iradier's compositions is El Arreglito, the habanera used by Georges Bizet in his opera Carmen, which was heard earlier in this program. Bizet, thinking it was a folk song, was inspired by the melody, and recomposed it. When he discovered his mistake, Bizet added a note to the vocal score of the opera, acknowledging its source.
(arranged by Francisco Tárrega)
Fantasía cubana
CELEDONIO ROMERO
(1913–1996)
Celedonio Romero, the founder of Los Romeros and patriarch of the Romero family, won early praise as a concert guitarist in Spain. His sympathy with Spain's Republican government during the Spanish Civil War had an adverse effect on his career when Franco's forces were victorious. In 1957 he was able to emigrate to the United States. He has made a unique contribution to the classical guitar by training his three sons to be talented guitarists, by appearing for many years in concert with his sons as the first Los Romeros and by his over 200 works for the guitar including concertos, songs, and pieces for solo and multiple guitars. Many evoke the musical and literary traditions of Spain.
The Romeros
De Cádiz a la habana
PEPE ROMERO
(B. 1944)
Pepe Romero was born in Spain, the second son of celebrated guitarist and composer Celedonio Romero, who was his only guitar teacher. One of the most celebrated and versatile musicians of his generation, he has enjoyed a varied and illustrious career as a performer in solo recital, as a member of the Romero Guitar Quartet, and in concert with symphony orchestras around the world. In addition, he is active as a composer and teacher.
El baile de Luis Alonso
GERÓNIMO GIMÉNEZ
(1854–1923)
Gerónimo Giménez was a well-known Spanish conductor and composer. As conductor at the Teatro de Apollo in Madrid he directed the first Spanish performance of Bizet's Carmen. La Boda de Luis Alonso, from which tonight's selection is drawn is his best-known zarzuela inspired by Spanish song and dance.
(arranged by Pepe Romero.)
Program notes by Scott Cmiel
Program Subject to Change