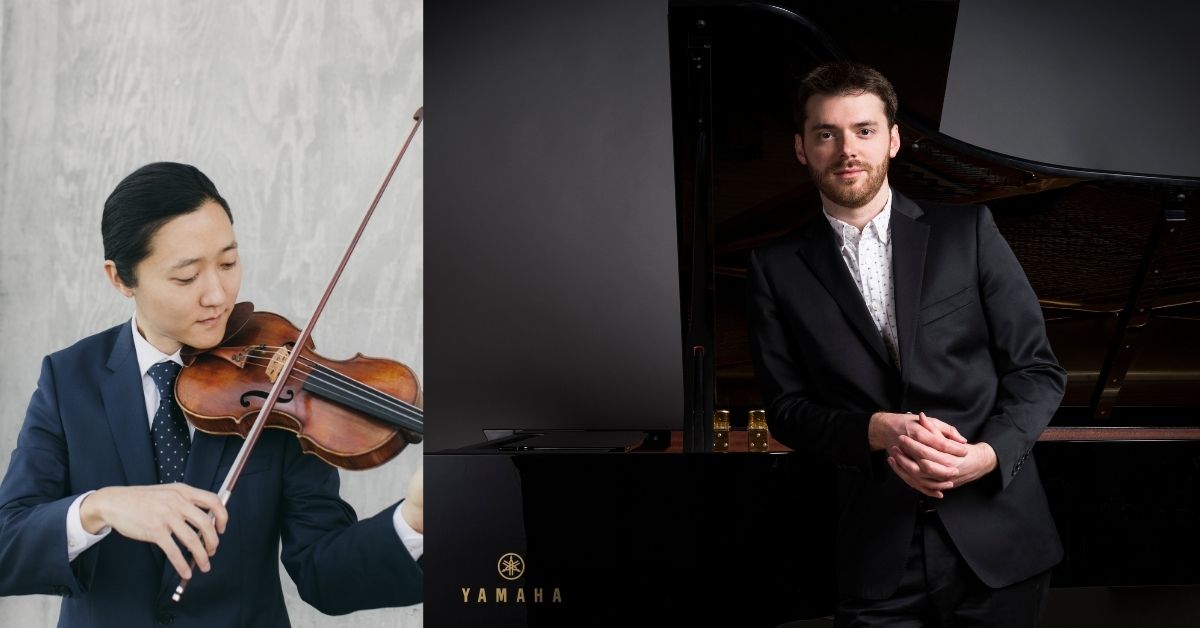 Wednesday, January 19, 2022
7:30PM
$40
No charge for Four Arts Members
American violinist Sean Lee is one of few violinists who dare to perform the complete 24 Caprices of Niccolò Paganini in concert. A recipient of Lincoln Center's Avery Fisher Career Grant, Lee has captured the attention of audiences worldwide, with performances described by the New York Times as "breathtakingly beautiful".
Lee's ongoing educational YouTube series, "Paganini POV", utilizes modern technology to share a unique perspective on violin playing. Upcoming performances of the Paganini Caprices include a recital of the complete 24 Caprices as arranged by Robert Schumann in January 2022, at the Chamber Music Society of Lincoln Center with pianist Peter Dugan. In anticipation of the recital at Lincoln
Center, Lee and Dugan will release nine selections from the arrangements as an EP and video series in 2021.
Lee's debut album was released by EMI Classics, and reached the iTunes top 20 classical bestsellers list. In 2018, Lee released his second album, SONGBOOK, featuring songs from all over the world from classical to jazz. As a soloist, Lee has appeared with orchestras including the San Francisco Symphony, Jerusalem Symphony, Israel Camerata Jerusalem, and Utah Symphony, and recital appearances have taken him to Carnegie Hall's Weill Hall, Tel Aviv Museum of Art, Festival di Carro Paganiniano of Italy, and Vienna's Konzerthaus. A top prizewinner at the "Premio Paganini" International Violin Competition, Lee embraces the legacy of his late mentor, violinist Ruggiero Ricci, who made the first solo recording of the 24 Caprices in 1947.
Lee has collaborated in performances with Itzhak Perlman, Sir James Galway, Deborah Voigt, and members of the Emerson and Guarneri String Quartets. With the Chamber Music Society of Lincoln Center, Lee has performed numerous times at Lincoln Center, as well as on tour internationally at venues including the Lobkowicz Palace in Prague, Czech Republic; LG Arts Center in Seoul, Korea;
National Theater in Taipei, Taiwan; and the White Nights Festival in St. Petersburg, Russia. Lee also performed for PBS's first international production of Live from Lincoln Center, "Odyssey: The Chamber Music Society in Greece".
Lee currently resides in the Capital Region of New York State. Born in Los Angeles, Lee studied in Southern California with Robert Lipsett of the Colburn Conservatory, and with violin legend Ruggiero Ricci. Moving to New York City at age 17, Lee studied at the Juilliard School with the internationally acclaimed Itzhak Perlman. At the Juilliard School, Lee earned both Bachelor and
Master of Music Degrees, and received the William Schuman Prize upon graduation. Also a dedicated educator, Lee is a faculty member of the Juilliard School's Pre-College Division and the Perlman Music Program.
Lee performs on a violin originally made for violinist Ruggiero Ricci in 1999 by David Bague, and a bow made circa 1890 by Joseph Arthur Vigneron.
Pianist Peter Dugan's debut performances with Michael Tilson Thomas and the San Francisco Symphony were described by the Los Angeles Times as "stunning" and by the SF Chronicle as "fearlessly athletic." He is heard across America as the host of NPR's beloved program From the Top.  He has appeared as a soloist, recitalist, and chamber musician across North America and abroad, and can be heard as the piano soloist on a new release of Ives' Fourth Symphony from Tilson Thomas and the San Francisco Symphony.  In 2020, he joined violinist Joshua Bell for At Home With Music, a national PBS broadcast and live album release on Sony Classical.  Prizing versatility as the key to the future of classical music, Mr. Dugan is equally at home in classical, jazz, and pop idioms.
A sought-after multi-genre artist, Mr. Dugan has performed in duos and trios with artists ranging from Itzhak Perlman and Renee Fleming to Jesse Colin Young and Glenn Close. The Wall Street Journal described Mr. Dugan's collaboration with violinist Charles Yang as a "classical-meets-rockstar duo." Mr. Dugan has been presented in chamber music recitals by Carnegie Hall, Chamber Music Society of Palm Beach, Music at Menlo, Saratoga Performing Arts Center, and the Moab Music Festival.  He was the 2019 featured recitalist for the California Association of Professional Music Teachers, and has soloed with the San Francisco Symphony, Houston Symphony, Kansas City Symphony, New World Symphony, and Mid-Texas Symphony.
His debut album with baritone John Brancy –  A Silent Night: A WWI Memorial in Song – pays homage to composers who lived through, fought in, and died in the Great War. Brancy and Dugan toured this program across North America in commemoration of the centennial of WWI, including performances at The Kennedy Center, Alice Tully Hall, Stanford University, the United States Naval Academy, and the Smithsonian Institute.  Together Brancy and Dugan won first prize at the 2018 Montreal International Music Competition and second prize at the 2017 Wigmore Hall International Song Competition.
Mr. Dugan advocates the importance of music in the community and at all levels of society.  As a founding creator of Operation Superpower, a superhero opera for children, he has travelled to dozens of schools in the greater New York area, performing for students and encouraging them to use their talents – their superpowers – for good.
Mr. Dugan holds Bachelor's and Master's degrees from The Juilliard School, where he studied under Matti Raekallio. He resides in New York City with his wife, mezzo-soprano Kara Dugan, and serves on the piano faculty at the Juilliard School Evening Division. Mr. Dugan is a Yamaha Artist.
The 24 Caprices of Niccolò Paganini are thought of as the Mount Everest of the violin repertoire, rarely performed even by the most talented of violinists. But beyond the technical challenges, each Caprice is a compelling character piece — and even more colorful with the addition of Robert Schumann's piano arrangements, which keep the original violin score unchanged. Sean Lee, who studied with violinist Ruggiero Ricci (who made the first solo violin recording in 1947), performs with longtime collaborator Peter Dugan in this special event.
PROGRAM
Niccolò Paganini, arr. Robert Schumann: 24 Caprices, Op. 1
No. 1 i n E Major – Andante
No. 7 i n A Minor – Posato
No. 3 i n E Minor – Sostenuto-Presto
No. 9 i n E Major – Allegretto
No. 10 i n G Minor – Vivace
No. 6 i n G Minor – Lento
No. 2 i n B Minor – Moderato
No. 8 i n Eb Major – Maestoso
No. 11 i n C Major – Andante-Presto-Primo Tempo
No. 12 i n Ab Major – Allegro
No. 5 i n A Minor – Agitato
No. 4 i n C Minor – Maestoso
-Intermission-
No. 13 i n Bb Major – Allegro
No. 16 i n G Minor – Presto
No. 14 i n Eb Major – Moderato
No. 17 i n Eb Major – Sostenuto-Andante
No. 20 i n D Major – Allegretto
No. 15 i n E Minor – Posato
No. 18 i n C Major – Corrente-Allegro
No. 21 i n A Major – Amoroso-Presto
No. 22 i n F Major – Marcato
No. 23 i n Eb Major – Posato
No. 19 i n Eb Major – Lento-Allegro assai
No. 24 i n A Minor – Tema con Variazioni: Quasi presto*
(*arr. Georg Schünemann)