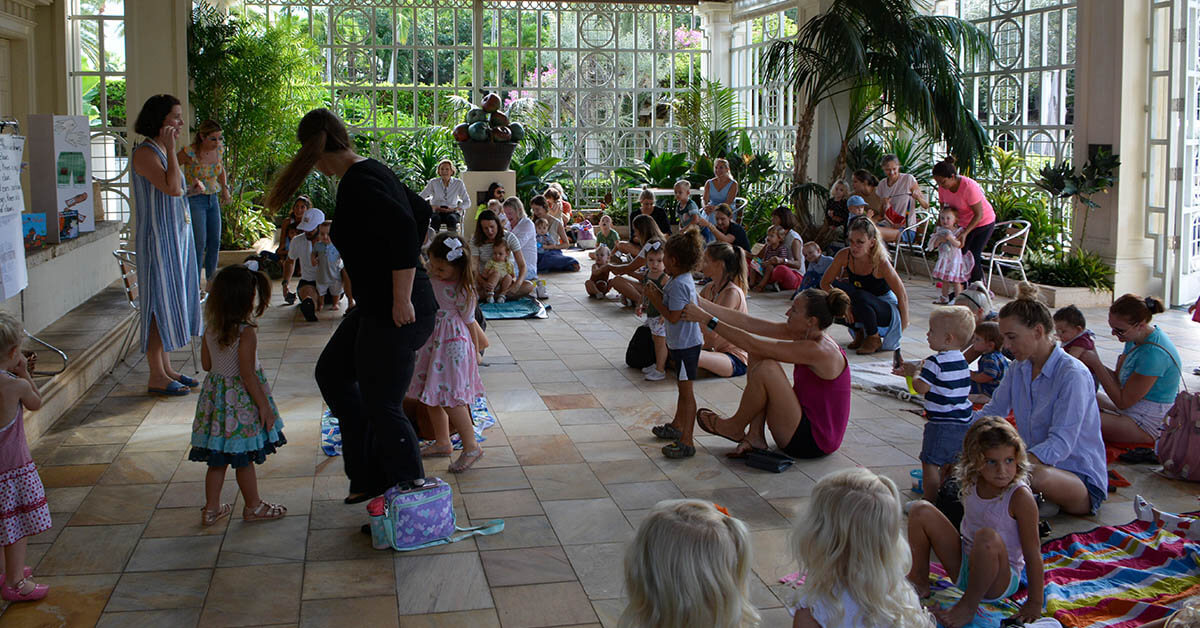 Preschool Story Times
Most Mondays and Thursdays at 10:30 a.m., October through April
No charge
No reservations needed
Four Arts Children's Library or the Philip Hulitar Sculpture Garden
4 years of age and younger. All children must be accompanied by an adult.
Each story time is based on an educational theme.  Afterwards, enjoy arts and crafts that bring the stories to life.
October 2023
Thursday, October 12: Fire Prevention Day
Monday, October 16: Owls
Thursday, October 19: Pumpkins
Monday, October 23: Monsters
Thursday, October 26: Skeleton & Bones
Monday, October 30: Trick-Or-Treat
November 2023
Thursday, November 2: Leaves
Monday, November 6: Fall Animals
Thursday, November 9: Friends
Monday, November 13: M-I-C-K-E-Y M-O-U-S-E
Thursday, November 16: Thanksgiving
Monday, November 27: Winnie the Pooh
Thursday, November 30: Kevin Henkes
December 2023
Monday, December 4: Holidays
Thursday, December 7: Hanukkah
Monday, December 11: "Sweet Smells" of the Holidays
Thursday, December 14: "Delicious Tastes" of the Holidays
Monday, December 18: Animals at Christmas
Thursday, December 21: Santa Claus is Coming to Town
January 2024
Thursday, January 4: Seasons
Monday, January 8: PJ Day
Thursday, January 11: Imaginary Creatures
Thursday, January 18: Frozen Pond
Monday, January 22: Dinosaur
Thursday, January 25: Fairy Tale
Monday, January 29: I am Big!
February 2024
Thursday, February 1: Feelings
Monday, February 5: Colors
Thursday, February 8: Chinese New Year
Monday, February 12: Valentine's Day
Thursday, February 15: Birds
Thursday, February 22: Hat Day
Monday, February 26: Clothing
Thursday, February 29: If You Give a Mouse a Cookie …
March 2024
Monday, March 4: Dr. Seuss Day
Thursday, March 7: Garden Day with Garden Club of Palm Beach
Monday, March 11: Let's Picnic
Thursday, March 14: American Farmer Day
Monday, March 18: Bugs
Thursday, March 21: Animal Sillies
Monday, March 25: Bunny Day
Thursday, March 28: Peter Cottontail Day & Egg Hunt
April 2024
Monday, April 1: Flower Day
Thursday, April 4: Growing Things
Monday, April 8: USA
Thursday, April 11: Weather
Monday, April 15: Zoo
Thursday, April 18: Mermaids
Monday, April 22: Florida
Thursday, April 25: The Sea
Monday, April 29: End of Season Pirate Day & Party