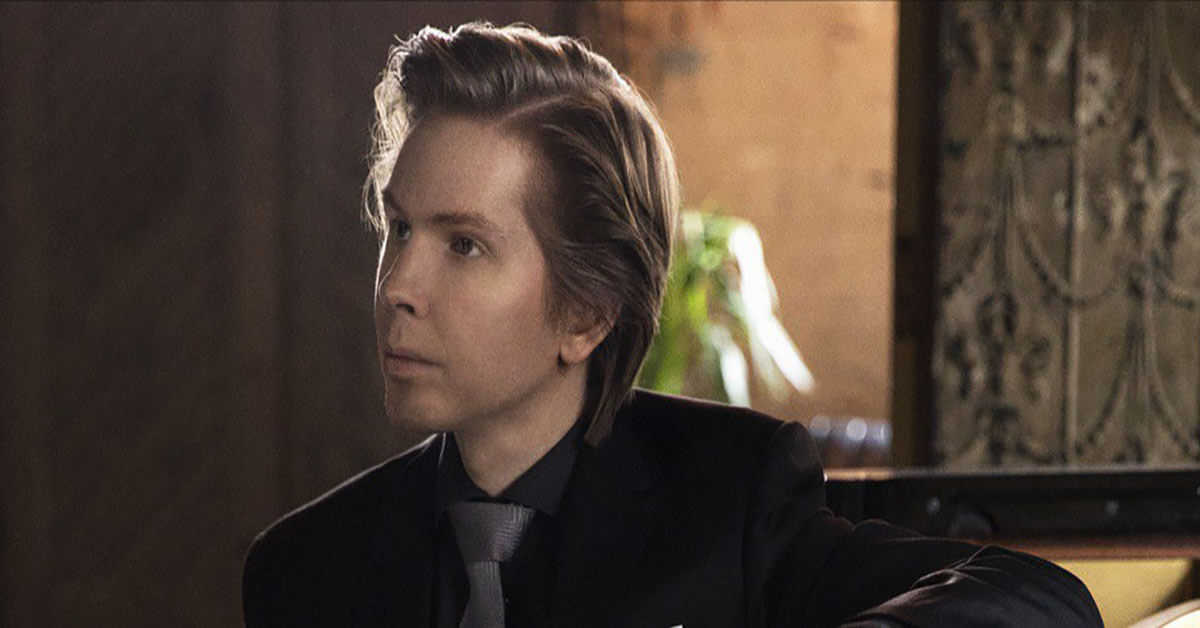 Wednesday, April 12, 2023
7:30PM
$40
No charge for Four Arts members
Juho Pohjonen is regarded as one of today's most exciting and unique instrumentalists. The Finnish pianist performs widely in Europe, Asia, and North America, collaborating with symphony orchestras and playing in recital and chamber settings.  An ardent exponent of Scandinavian music, Pohjonen's growing discography offers a showcase of music by Finnish compatriots such as Esa-Pekka Salonen, Kaija Saariaho and Jean Sibelius.
In 2022-2023 Pohjonen appears at a number of summer festivals including Marlboro, ChamberFest Cleveland, The Chamber Music Society of Lincoln Center's "Summer Evenings" series as well as at the Peninsula Music Festival, performing the Grieg Concerto with conductor Rune Bergmann. His concerto engagements take him around the globe, first for his debut with the German Radio Philharmonic, opening their season with Bartok's Piano Concerto No. 1 and conductor Pietari Inkinen. He performs Sauli Sinojev's Piano Concerto with the Lahti Symphony and Daníel Bjarnason, and Rachmaninoff's Piano Concerto No. 1 with the Taiwan Philharmonic and Stefan Asbury. Recital engagements include the Steinway Society in San Jose, CA, the Society of the Four Arts in Palm Beach, FL, the Weis Center for the Performing Arts at Bucknell University, and a duo concert with Inbal Segev at Howland Chamber Music Circle in Beacon, NY. An avid chamber musician, Juho collaborates in programs at the Elbphilharmonie in Hamburg, in Richardson, Texas with Cho-Liang Lin, at the National Concert Hall in Taipei, at the Schwetzingen Festival in Germany, in Helsinki, Finland, and with the Chamber Music Society of Lincoln Center, at Alice Tully Hall as well as on a U.S. tour in spring 2023.
Last season, Pohjonen performed Daniel Bjarnason's concerto for piano Processions with the Helsinki Philharmonic with the composer at the podium and made his debut with the BBC Philharmonic in Chopin's Piano Concerto No. 2 with Leslie Suganandarajah. Additional orchestral highlights included  Rachmaninoff's Piano Concerto No. 2 with Rune Bergmann and the Colorado Symphony as well as Mendelssohn's Concerto for Violin, Piano and Strings, beside Erin Keefe, Maestro Osmo Vänskä and the Minnesota Orchestra, for his 3rd appearance with the orchestra since 2019.
Pohjonen's illustrious resume of concerto engagements reveals a musician in demand internationally. He has appeared as a soloist with Los Angeles Philharmonic, Cleveland Orchestra, San Francisco Symphony, Atlanta Symphony, New Jersey Symphony, Rochester Philharmonic, National Arts Centre Orchestra, Scottish Chamber Orchestra, Danish National Symphony, Finnish Radio Symphony and Helsinki Philharmonic Orchestras, Philharmonia Orchestra of London, with the Mostly Mozart Festival in New York City, and a large number of additional North American orchestras. Pohjonen has collaborated with today's foremost conductors, including Marin Alsop, Lionel Bringuier, Marek Janowski, Fabien Gabel, Kirill Karabits, Esa-Pekka Salonen, Markus Stenz, and Pinchas Zukerman.
The pianist has previously appeared in recital at New York's Carnegie Hall and Lincoln Center, at the Kennedy Center in Washington, DC, and in San Francisco, La Jolla, Philadelphia, Detroit, Savannah, and Vancouver.  He made his London debut at Wigmore Hall, and has performed recitals throughout Europe including in Antwerp, Hamburg, Helsinki, St. Petersburg, and Warsaw. Festival appearances include Lucerne; Savonlinna Finland; Bergen, Norway; and Mecklenburg-Vorpommern in Germany, as well as the Gilmore Keyboard Festival. With CMS  he has performed significant chamber music repertoire with Escher and Calidore String Quartets in New York, Chicago, and at Wolf Trap, among many other programs. Other highlights of recent seasons include a recital debut at the 92nd Street Y in New York, in a program that featured Scriabin's Sonata No. 8 and Dichotomie by Salonen. In a review comparing Pohjonen's performance of the same piece in 2019 to his 2009 performance, the New York Times commented that the Salonen "no longer seemed nearly impossible. You might say he played it like a master."
Pohjonen launched MyPianist in 2019, an AI-based iOS app that provides interactive piano accompaniment to musicians everywhere. Designed and programmed by the pianist himself and infused with his keen musical sensibility, MyPianist acts as a "virtual pianist" for musicians looking to hone their skills or learn new material. MyPianist carefully "listens" to the musician's playing and recreates the piano part in real time, matching the timing and nuances of the live performance. More information can be found at https://mypianist.app.
Pohjonen's most recent recording with cellist Inbal Segev features cello sonatas by Chopin and Grieg, and Schumann's Fantasiestücke, hallmarks of the Romantic repertoire. Plateaux, his debut recording on Dacapo Records, featured works by late Scandinavian composer Pelle Gudmundsen-Holmgreen, including the solo piano suite For Piano, and piano concerto Plateaux pour Piano et Orchestre, with the Danish National Symphony Orchestra and conductor Ed Spanjaard. His recital at the Music@Menlo 2010 festival was recorded as part of the Music@Menlo Live series.  Entitled Maps and Legends, the disc includes Mozart's Sonata in A major, K. 331, Grieg's Ballade (Op. 24), and Handel's Suite in B-flat Major.  Pohjonen joins violinist Petteri Iivonen and cellist Samuli Peltonen to form the Sibelius Trio, who released a recording on Yarlung Records in honor of Finland's 1917 centennial of independence. The album, described by Stereophile as "a gorgeous debut," included works by Sibelius and Kaija Saariaho.
Pohjonen began his piano studies in 1989 at the Junior Academy of the Sibelius Academy in Helsinki, and subsequently earned a Master's Degree from Meri Louhos and Hui-Ying Liu-Tawaststjerna at the Sibelius Academy in 2008. Pohjonen was selected by Sir Andras Schiff as the winner of the 2009 Klavier Festival Ruhr Scholarship, and has won prizes at international and Finnish competitions.
PROGRAM
GREIG                        Ballade in G minor, Op. 24
RAVEL                       Gaspard de la nuit, M. 55
Ondine
Le Gibet
Scarbo
***Intermission***
 CHOPIN                      Ballade No. 1 in G minor, Op. 23
Ballade No. 2 in F Major, Op. 38
Ballade No. 3 in A-flat Major, Op. 47
Ballade No. 4 in F minor, Op. 52