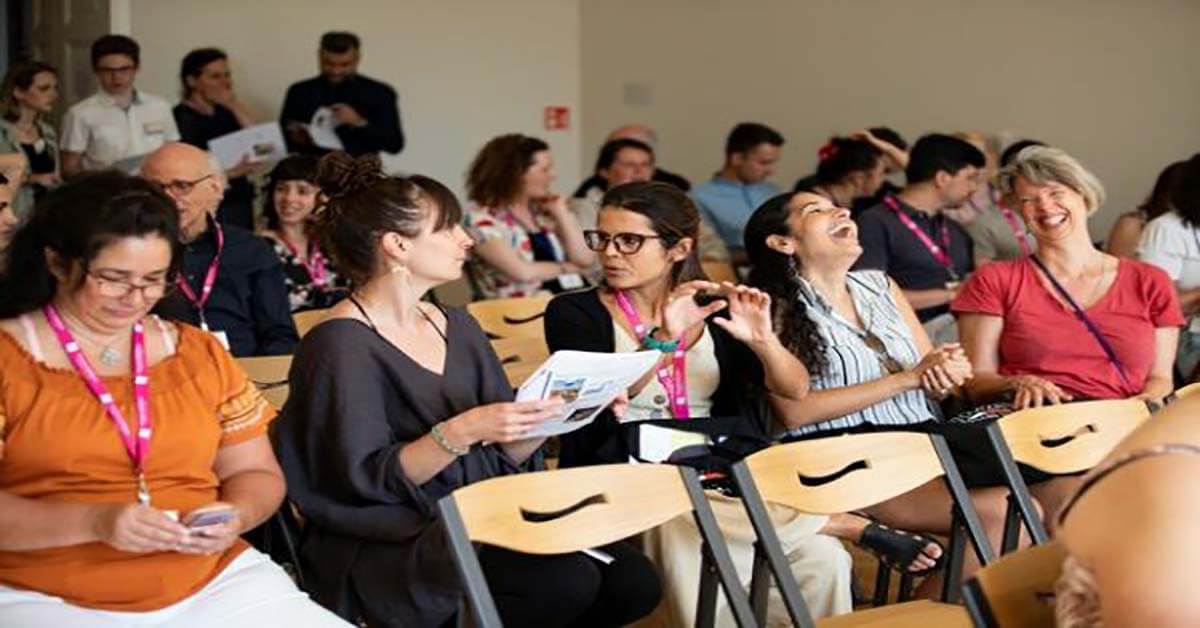 From June 13-17, 2022, The Society of the Four Arts will be hosting the Fifth Innovation Exchange Residence of the Global Leaders Program on its campus.
Local Palm Beach area cultural organizations are invited to join a weeklong Innovation Exchange that trains participants to design powerful solutions to key organizational challenges using readily available tools. Co-presented by The Society of the Four Arts, Palm Beach's landmark cultural organization, in alliance with The Global Leaders Program (GLP), a leading global arts entrepreneurship executive training platform, local Palm Beach-area organizations and their teams are invited to take part in this five-day professional development exchange.
On the collaboration, Sofia Vollmer Maduro, Director of Programs at The Society of the Four Arts says,
"The Global Leaders Program and The Society of the Four Arts are partnering to host the fifth annual Innovation Exchange Residence, the first to be held in the United States of America. This Residence's emphasis on the entirety of the arts makes Palm Beach the ideal location to host this year's program. Palm Beach County has been Florida's cultural capital since the Gilded Age and The Society of the Four Arts is the region's premiere arts and cultural institution. Through the collaboration between local arts organizations and the program's world-class cohort and faculty, the Innovation Exchange Residence provides the unparalleled opportunity to foster Palm Beach's continued international presence in the cultural sphere".
The cohort, staying at Palm Beach Atlantic University, consists of over 30 international arts professionals who are experts in their fields including: Lia Uribe (University of Arkansas Department of Music Associate Chair & Professor of Bassoon), Alfonso Hernandez (Co-Founder of Festival Internacional de Música de Cámara de Guatemala), Rebecca Winckworth (Founder of Citizens of Song), and Francesco Rocco (Vice President of Lilium SoundArt).
Participating local arts organizations include: Ann Norton Sculpture Gardens, Cultural Council for Palm Beach County, Dreyfoos School of the Arts Foundation, Lynn Conservatory of Music, Miami City Ballet, Norton Museum of Art, Palm Beach Atlantic University Department of Music, Palm Beach Opera, Palm Beach Symphony, The School District of Palm Beach County, The Society of the Four Arts, Young Singers of the Palm Beaches, and Youth Orchestra of Palm Beach County.
The Residence will culminate on Friday, June 17, 2022 from 3-5 p.m. in a Shark Tank style presentation at The Society of the Four Arts. The esteemed panel of judges will be revealed at a later date.
No charge. Reservations are recommended and can be obtained by emailing glp@fourarts.org.
ABOUT THE GLOBAL LEADERS PROGRAM
The Global Leaders Program empowers arts changemakers to sustainably grow enterprises that impact communities.
Each year, a select Cohort of 60 global arts professionals is invited to take part in the GLP's Executive Graduate Certificate in social entrepreneurship, cultural agency, impact innovation, community development, organization management, design thinking, and education leadership.
Curated by nine top universities and think tanks from Harvard and Georgetown to Duke, the GLP's innovative 12-month learning journey is guided by a world-class faculty that includes Nobel laureates, Grammy winners, Polar Prize awardees, TED presenters, and an institutional network of dynamic field partners spanning 40+ nations. globalleadersprogram.com