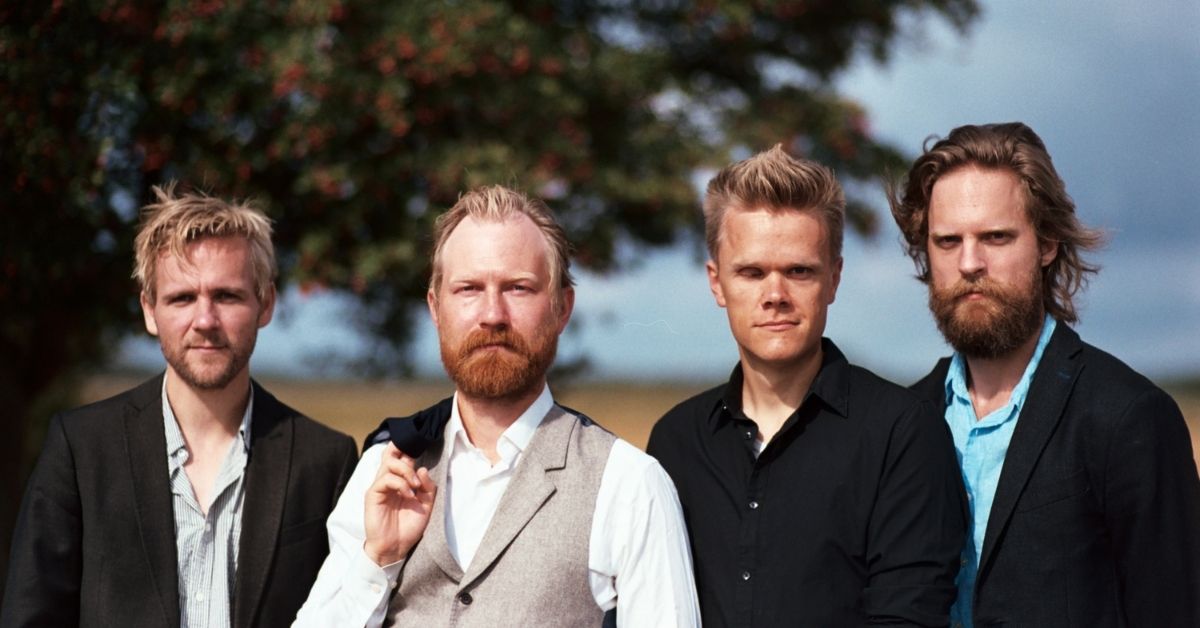 Wednesday, March 30, 2022
7:30PM
$40
No charge for Four Arts Members
Among today's many exceptional chamber music groups, the GRAMMY® nominated Danish String Quartet continuously asserts its preeminence. The Quartet's playing reflects impeccable musicianship, sophisticated artistry, exquisite clarity of ensemble, and, above all, an expressivity inextricably bound to the music, from Haydn to Shostakovich to contemporary scores. The recipient of many awards and prestigious appointments, including Musical America's 2020 Ensemble of the Year and the Borletti-Buitoni Trust, the Danish String Quartet was named in 2013 as BBC Radio 3 New Generation Artists and appointed to the The Bowers Program (formerly CMS Two).
In 2021-2022, the Danish String Quartet introduce DOPPELGÄNGER, an ambitious 4-year international commissioning project. DOPPELGÄNGER pairs world premieres from four renowned composers—Bent Sørensen, Lotta Wennäkoski, Anna Thorvaldsdottir, and Thomas Adès—with four major works from the masterful chamber music repertoire of Schubert. Each season, the Danish String Quartet will perform a world premiere on a program with its doppelgänger—the Schubert quartet or quintet that inspired it. The DOPPELGÄNGER pieces are commissioned by the Danish String Quartet with the support of Carnegie Hall, Cal Performances, UC Santa Barbara Arts & Lectures, Vancouver Recital Society, Flagey in Brussels, and Muziekgebouw in Amsterdam.
In addition to performances of DOPPELGÄNGER, the Danish String Quartet gives over 20 performances throughout North America in the 2021-2022 season. European highlights include tours of Denmark, France, Germany, and Amsterdam.
As part of a multi-year residency, the Danish String Quartet brought a series of five concerts, which mirror the programs in its ongoing recording project with ECM New Series, PRISM, to La Jolla Music Society in November 2019. Each PRISM program is an exploration of the symbiotic musical and contextual relationships between Bach fugues, Beethoven string quartets, and works by Shostakovich, Schnittke, Bartok, Mendelssohn, and Webern, forming an expertly curated musical evolution within each individual program and across the entire PRISM repertory. Prism I, the first disc of this five-album project for the ECM label, was released in September 2018 and garnered a GRAMMY® nomination in the category of Best Chamber Music/Small Ensemble Performance for the group's recordings of Beethoven's Op. 127 in E-flat Major, Bach's Fugue in E-flat Major (arranged by Mozart), and Shostakovich's final string quartet, No. 15 in E-flat minor. Prism II was subsequently released in September 2019 to rave reviews including a five-star review from BBC Music Magazine, "Best Classical Music of 2019" from New York Times, and "Classical Music You Must Hear" from Apple Music. Prism III—featuring Beethoven's String Quartet No. 13, Op. 131, Bartók's String Quartet No. 1, and Bach's Fugue in C-sharp minor, BWV 849 from The Well-Tempered Clavier—was released in March 2021.
The group takes an active role in reaching new audiences through special projects.  In 2007, they established the DSQ Festival, which takes place in an intimate and informal setting at Copenhagen's Bygningskulturens Hus. In 2016, they inaugurated a new music festival, Series of Four, in which they both perform and invite colleagues—the Ebène Quartet, mandolin player Chris Thile, among others—to appear at the venerable Danish Radio Concert Hall.
The Quartet's musical interests also encompass Nordic folk music, the focus of Wood Works, an album of traditional Scandinavian folk music, released by Dacapo in 2014. As a follow-up, the Danish String Quartet released Last Leaf for ECM, an album of traditional Scandinavian folk music.
In 2012, the Danish String Quartet released a recording of Haydn and Brahms quartets on the German AVI-music label, for which they also received critical notice. Subsequently, they recorded works by Brahms and Robert Fuchs with clarinetist Sebastian Manz, released by AVI-music in 2014, and in 2017, an album with music of Thomas Adès, Per Nørgård, and Abrahamsen, the Quartet's debut on ECM.
Violinists Frederik Øland and Rune Tonsgaard Sørenson and violist Asbjørn Nørgaard met as children at a music summer camp where they played soccer and made music together.  As teenagers, they began the study of classical chamber music and were mentored by Tim Frederiksen of Copenhagen's Royal Danish Academy of Music.  In 2008, the three Danes were joined by Norwegian cellist Fredrik Schøyen Sjölin.  www.danishquartet.com.
PROGRAM
Frederik Øland, Violin
Rune Tonsgaard Sørensen, Violin
Asbjørn Nørgaard, Viola
Fredrik Schøyen Sjölin, Cello
Britten
            Three Divertimenti for String Quartet
March. Allegro maestoso
Waltz. Allegretto
Burlesque. Presto
"An Alleged Suite", a curated suite of dances
Prelude – CHARPENTIER: Prelude
Allemande – JOHN ADAMS: PAVANE: She's so fine
Courante – Trad. Polska
Sarabande – BLUMENFELD: Sarabande
Gavotte – JOHN ADAMS: Stubble Crotchet
Gigue 1 – CHARPENTIER: Gigue française
Gigue 2 – JOHN ADAMS: Toot Nipple
INTERVAL
Schubert                               
String Quartet No. 14 in D minor "Death and the Maiden", D. 810  Allegro
Andante con moto
Scherzo. Allegro molto – Trio
Presto