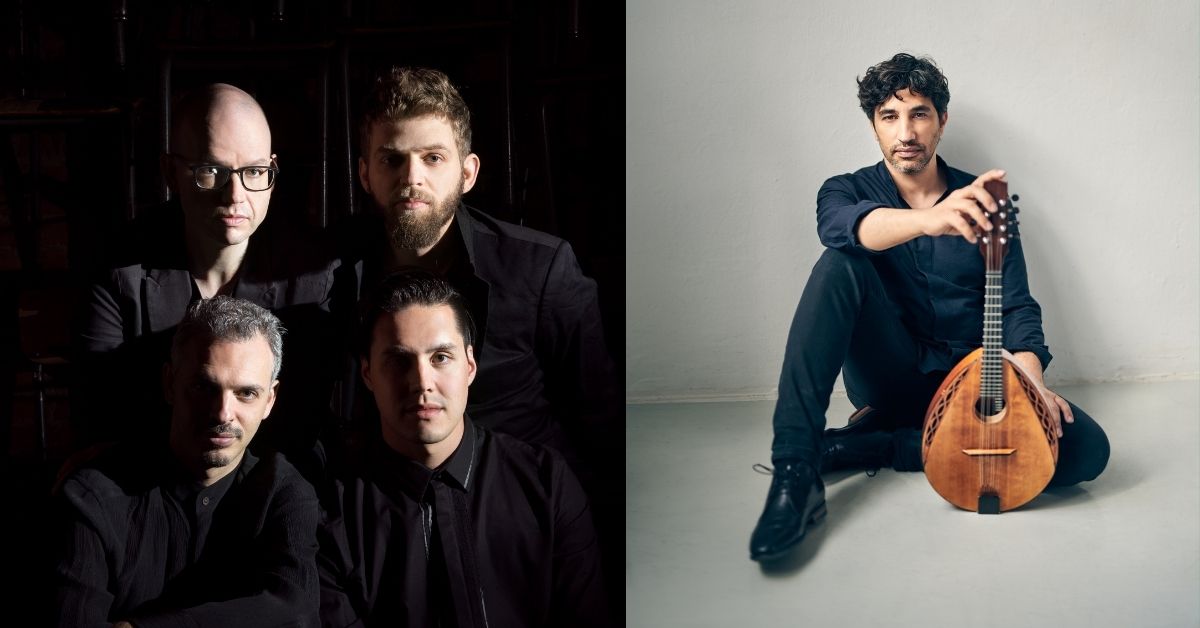 3:00PM
$30
No charge for Four Arts members
Hailed as "the future of chamber music" (Strings), veteran string quartet Brooklyn Rider presents eclectic repertoire and gripping performances that draw rave reviews from classical, world, and rock critics alike. The quartet performs with Avi Avital, who previously appeared at the Four Arts in 2020. The first mandolin soloist to be nominated for a classical Grammy, Avital is a driving force behind the reinvigoration of the mandolin repertory.
BROOKLYN RIDER
Johnny Gandelsman, violin
Colin Jacobsen, violin
Nicholas Cords, viola
Michael Nicolas, cello
With their gripping performance style and unquenchable appetite for musical adventure, Brooklyn Rider has carved a singular space in the world of string quartets over their fifteen-year history. Defining the string quartet as a medium with deep historic roots and endless possibility for invention, they find equal inspiration in musical languages ranging from late Beethoven to Persian classical music to American roots music to the endlessly varied voices of living composers. Claiming no allegiance to either end of the historical spectrum, Brooklyn Rider most comfortably operates within the long arc of the tradition, seeking to illuminate works of the past with fresh insight while coaxing the malleable genre into the future through an inclusive programming vision, deep-rooted collaborations with a wide range of global tradition bearers, and the creation of thoughtful and relevant frames for commissioning projects.
The upcoming concert season is strongly illustrative of the intrepid musical appetite of Brooklyn Rider. This coming fall, they will premiere a major new work by the great Argentinian composer and close friend, Osvaldo Golijov. The quartet also has two new collaborative projects for 2021-22. One is with Israeli mandolin virtuoso Avi Avital, and the other is a brand new phase of work with tenor Nicholas Phan, where they will explore the music of Franz Schubert and Rufus Wainwright. Looking further into the future, they will expand work already underway with Syrian clarinetist Kinan Azmeh and will launch a major new commissioning venture for the 2022-23 season called The Four Elements; an exploration of the four classical elements (earth, air, water, and fire) as metaphor for both the complex inner world of the string quartet and the current health of planet Earth.
Prior to the global pandemic, the 2019-20 season saw a veritable explosion of new projects and releases. Shared at the height of the US lockdown, the Grammy®-nominated recording Healing Modes (In A Circle Records) presented Beethoven's towering Opus 132 — the composer's late testament on healing and the restorative power of new creation — interwoven with five new commissions powerfully exploring topics as wide-ranging as the US-Mexico border conflict, the Syrian refugee crisis, the mental health epidemic, and physical well-being. Described by The New Yorker as a project which "…could not possibly be more relevant or necessary than it is currently," the composers include Reena Esmail, Gabriela Lena Frank, Matana Roberts, Caroline Shaw, and Du Yun.
Numerous other collaborations have helped give rise to NPR Music's observation that Brooklyn Rider is "recreating the 300-year-old form of string quartet as a vital and creative 21st-century ensemble." During the 2016-17 season, Brooklyn Rider released an album entitled So Many Things on Naïve Records with Swedish mezzo-soprano Anne Sofie von Otter, comprising music by Colin Jacobsen, Caroline Shaw, John Adams, Nico Muhly, Björk, Sting, Kate Bush and Elvis Costello, among others. Some Of A Thousand Words, an evening-length program with choreographer Brian Brooks and former New York City Ballet prima ballerina Wendy Whelan, was an intimate series of duets and solos in which the quartet's live onstage music is a dynamic and central creative component. Some Of A Thousand Words was featured at the 2016 Jacob's Pillow Dance Festival, before two U.S. tours, including a week-long run at New York City's Joyce Theater. A collaboration with Dance Heginbotham with music written by Colin Jacobsen resulted in Chalk And Soot, an evening-length work presented by Lincoln Center's White Lights Festival in 2014. Brooklyn Rider has also frequently teamed up with banjoist Béla Fleck, with whom they appeared on two different albums, 2017's Juno Concerto and 2013's The Impostor. And in one of their longest-standing musical friendships to date, Brooklyn Rider and Iranian kamancheh player Kayhan Kalhor released the highly praised recording Silent City (World Village) in 2008, still touring the project to this day.
Avi Avital
Mandolin
The first mandolin soloist to be nominated for a classical Grammy, Avi Avital has been compared to Andres Segovia for his championship of his instrument and to Jascha Heifitz for his incredible virtuosity. Passionate and "explosively charismatic" (New York Times) in live performance, he is a driving force behind the reinvigoration of the mandolin repertory.
Avital has commissioned over 100 works for the mandolin and recently added two new concertos for mandolin and symphony orchestra: Jennifer Higdon's Mandolin Concerto (2021) was premiered in June 2021 by the Munich Philharmonic Orchestra conducted by Krzysztof Urbański and will have US performances with the Chicago Philharmonic, Mobile Symphony and Atlanta Symphony Orchestras. The Mandolin Concerto composed for him by Giovanni Sollima was premiered in January 2020 with RAI Torino/Bancroft and will receive its North American premiere with the Vancouver Symphony Orchestra. Other concertos include Anna Clyne, David Bruce and Avner Dorman.
Avital appears frequently at major venues across the world including Carnegie Hall, the Berlin Philharmonie, Beijing's National Centre for the Performing Arts, London's Wigmore and Royal Albert Halls, Zurich's Tonhalle, Barcelona's Palau de la Música Catalana, Paris Philharmonie, Vienna Konzerthaus, and Palais de Versailles with a live telecast on TV Arte.
Avital collaborates with musicians across many genres including Ksenija Sidorova, Giovanni Sollima, Mahan Esfahani, Kristian Bezuidenhout, Alice Sara Ott, Andreas Scholl, Dover Quartet, Danish String Quartet, Brooklyn Rider, Omer Klein, Omer Avital, actress Martina Gedeck and Georgian puppet theatre, Budrugana Gagra. His versatility has led to features as "Portrait Artist" at the Schleswig-Holstein Music Festival, BOZAR in Brussels and the Dortmund Konzerthaus (Zeitinsel) and he is a regular presence at major festivals such as Salzburg, Tanglewood, Spoleto, Ravenna, MISA Shanghai, Cheltenham, Verbier, and Tsinandali.
An exclusive Deutsche Grammophon artist, his sixth album for the label "The Art of the Mandolin" has been received with high praise and top reviews in The Times, Independent, Gramophone, BBC Music Magazine as well as the international press. This follows recordings of solo Bach (2019), Avital meets Avital (2017) with oud/bassist Omer Avital, ECHO Klassik Award winning Vivaldi (2015), an album of Avital's own transcriptions of Bach concertos and Between Worlds (2014), a cross-generic chamber collection exploring the nexus between classical and traditional music.
PROGRAM
La Musica Notturna Ritratta di Madrid
LUIGI BOCCHERINI
(1743-1805)
Prelude for Solo Mandolin
GIOVANNI SOLLIMA
(b. 1962)
Entr'acte
CAROLINE SHAW
(b. 1982)
 Time and Again
**Southeast premiere for Mandolin and String Quartet
COLIN JACOBSEN
(b. 1978)
Obrigado
CLARICE ASSAD
(b. 1978)
Arum der Fayer
**Southeast premiere for Mandolin and String Quartet
OSVALDO GOLIJOV
(b. 1960)
Love Potion, Expired, from Culai
LEV "LJOVA" ZHURBIN
(b. 1978)
*This program to be performed without intermission*