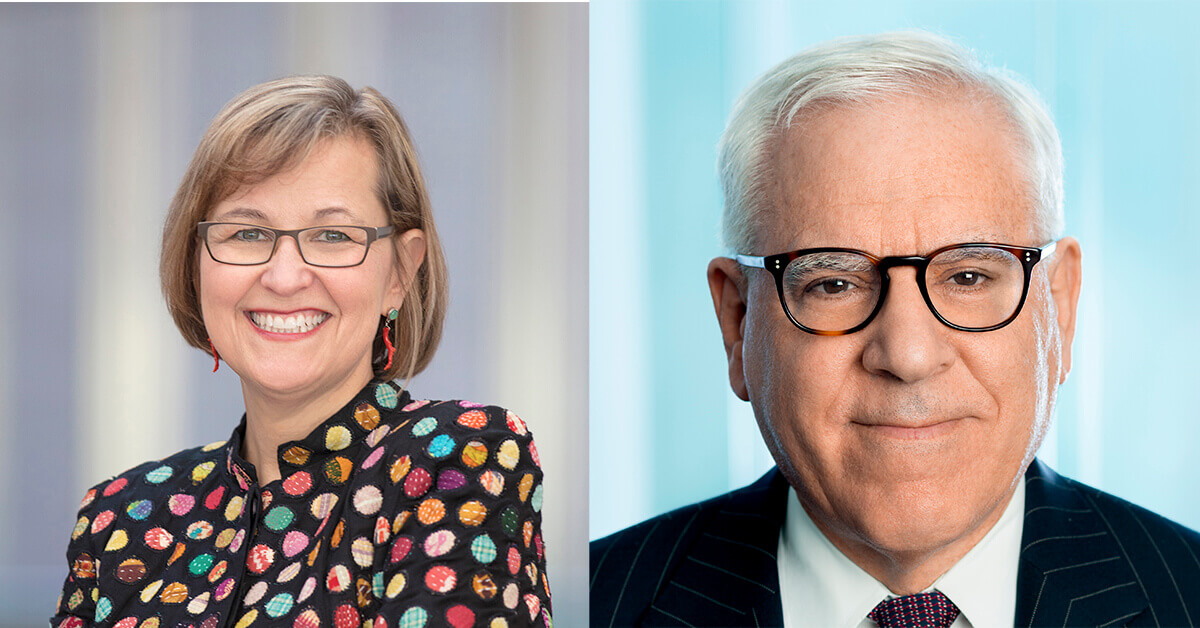 3:00PM
No charge for Four Arts members. Reservations required.
Public tickets $50, on sale at 10 a.m. Wednesday, March 23, subject to availability.
An Afternoon with David Rubenstein & Kaywin Feldman
The remarkable David Rubenstein was Co-Founder in 1987 and is now Co-Chairman of The Carlyle Group. He is a leader in patriotic philanthropy, having made transformative gifts for, among others, the restoration of Mount Vernon, the Iwo Jima Memorial, the giant panda complex at the National Zoo, the Library of Congress, and the National Museum of African American History and Culture. He is Chairman of both the Smithsonian Institution and the John F. Kennedy Center in Washington, DC. In 2020-21 The Four Arts was fortunate to exhibit early American printed books from David Rubenstein's collection of Americana, loaned by the New-York Historical Society. He is the host of The David Rubenstein Show and Bloomberg Wealth with David Rubenstein. With this avocation as a skilled interviewer and popular media personality he returns in 2022 to the Four Arts to introduce us to the Director of Washington, DC's National Gallery of Art.
Kaywin Feldman is the fifth director (and the first female director) of the National Gallery of Art. She joined the museum in March 2019. This was her fourth posting, following directorships at the Fresno Museum in California, the Memphis Brooks Museum of Art in Tennessee and the Minneapolis Institute of Art. She has held numerous leadership positions in museum and cultural organizations (the National Trust for Historic Preservation, the White House Historical Association, the American Alliance of Museums and the Association of Art Museum Directors). Feldman graduated in Classical Archaeology from the University of Michigan and took degrees at the Courtauld Institute (writing her thesis on 16th-century Flemish art) and the University of London. She cites her first encounter with frescoes by Giotto in the Scrovegni Chapel in Padua as a moment of "wonder," causing her to pivot from classical archaeology to art history.