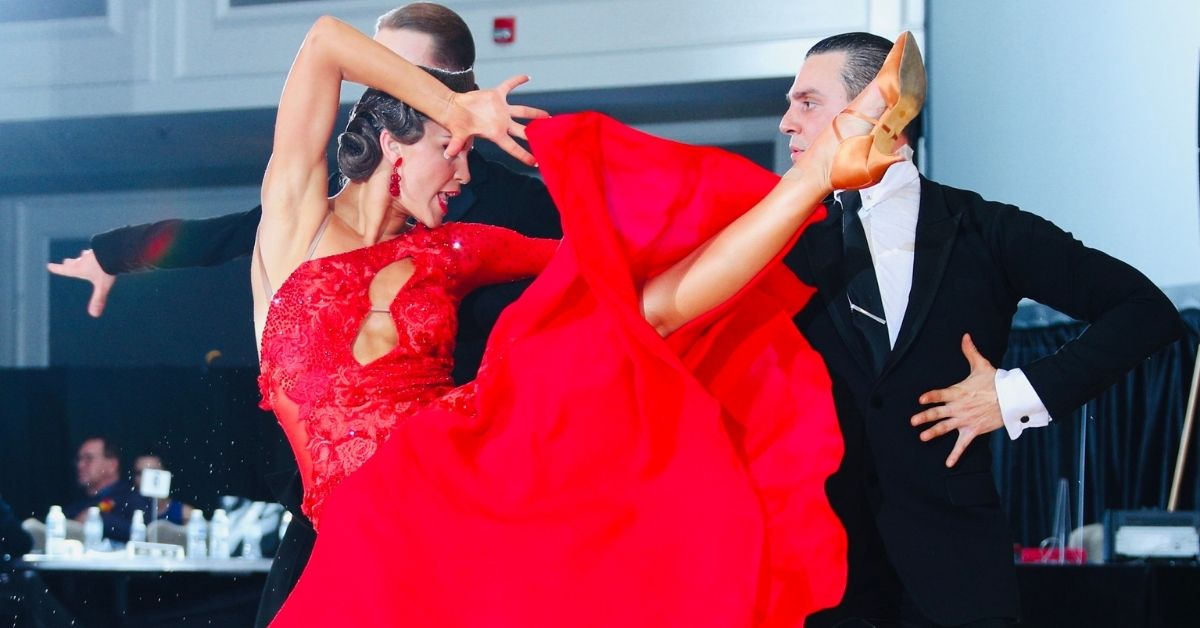 Wednesday, February 2, 2022
7:30PM
$40
No charge for Four Arts Members
Generously supported by Mr. and Mrs. Robert L. Forbes
Dance couples will showcase the elegant, exciting and dynamic world of Ballroom and Latin dancing. This journey will make you dream about dancing the Waltz, Tango, Foxtrot as well as the Cha Cha Cha, Rumba, Paso Doble and Samba Be enticed and experience the wonder of sparkles and flourishing moves.
ABOUT THE ARTISTS / DANCERS / COMPETITORS
MYKHAILO AZAROV
Born in the Ukraine Mykhailo started dancing at the age of 6. His passion is in all the aspects of Ballroom dancing, he is a dancer, competitor, choreographer and dance instructor. Some of his achievements are winning the Bronze Medal at the Blackpool Dancesport Championship, became a Fred Astaire World Champion 5x, was the Fred Astaire National Theater Arts Champion 13x, was a Finalist in the 9-dance division at the United States Dance Champion-ship, and won many other competitions around the world. But he loves also the business side of it and after moving to the United States in 2014 has worked for Fred Astaire Dance Studios in Walton Beach, then moved on to co-own a Fred Astaire Studio in NYC and is now a proud co-owner together with Anastasia Kuzmich, of the Fred Astaire studio in West Palm Beach since 2019.
ANASTASIA KUZMICH
Hails from Belarus and has been dancing since the age of 7. Anastasia holds a University degree in Ballroom Dancing as an instructor, choreographer and coach. Achieving many of her goals including World Champion in the Showcase division, Prizewinner of national and international competitions, member of the National team of the Republic of Belarus and was a awarded candidate for Master of Sports. She recently became co-owner of the Fred Astaire dance studio in West Palm Beach.
MANUEL FAVILLA
Born and raised in Italy started dancing at the age of 8. To pursue his passion to become one of the Best he travelled all over the world to compete, take lessons, perform and teach. He currently lives in Florida where he works for the Fred Astaire studio. Currently he and his partner Natalia Maidiuk are ranked 8th in the WDC Professional Latin category.
NATALIA MAIDIUK
Natalia is born in Lithuania and started her dance career at the young age of 7. Developing as a young dancer she turned her passion into her profession and followed her dream living and dancing in Italy, later in Korea and is currently based out of Palm Beach Florida. Together with her partner Manuel they are presenting the United States all over the world performing, competing and coaching.
CLIFTON SEPULVEDA
Clifton has enjoyed a very colorful youth to say the least. Being involved in all kinds of sports including golf, wrestling, archery and more – he qualified for the world championships in archery at age 16. During his high school years he became one of the first male cheerleaders as a "lifter" in the school's history. This talent took him to the University of Kentucky. After college he discovered the dance world which became his true passion. He now works for Fred Astaire dance studio. Here is where he met his current partner and wife Mar Martinez. Clifton and Mar hold the titles in the Theater Arts category as Dutch Champions, Kremlin Cup Champions, Ohio Star Ball Champions, Fred Astaire Champions and Blackpool and United States Finalists. Clifton and Mar are dancing in the Theater Arts category.
MAR MARTINEZ
Born and raised in Cuba started dancing at the age of 3. She was unstoppable and went on studying all the fundamentals of dance incl. jazz, tap, ballet, ballroom and acting. Mar auditioned and was admitted for the Escuela Vocational de Arte (EVA) in Provincia Havana at the age of 8. She then was selected to study at prestigious Escuela Nacional de Arte (ENA) in Havana where she obtained an Associates Degree with Honors as a Professional Dancer and Dance Instructor. Eventually she was invited to join the most recognized dance company in Cuba called Danza Contemporanea de Cuba. She has enjoyed a very successful career in dancing in her country until she came to the United States in 2012. Mar has been working in the West Palm Beach Fred Astaire studio where she met her partner Clifton and together have been competing in different styles including American Smooth, American Rhythm, and Theater Arts.
KEVIN UBILLUS
Originally from Peru, Kevin started dancing at an early age developing a passion for Peruvian Folk Dance, Hip Hop, Break Dance, Ballet and Ballroom Dancing. In 2011 he performed with Britney Spears in her Peru tour "Femme Fatal". He was also featured in several musicals and television shows including the Peruvian counterpart "Dancing with the Stars" called "The Gran Show" where he captured with his celebrity partner the first place in 2017. He now lives in the United States performs, competes and teaches all over the country.
MILAGROS LARETO
Milagros was born in Lima, Peru and started her dance career at the age of 4. She was a student of the National Superior Ballet School of Peru for many years and taught children for the Young Ballet Company of Lima where she has captured many prizes. She was participating in musicals and was featured on the "The Gran Show", the Peruvian version of "Dancing with the Stars" in 2013. Living now in the United States she enjoys teaching, competing and performing together with her partner Kevin.
LUCA BALESTRA & KRIZIA BALESTRA
Krizia and Luca are twins, a brother and sister team born and raised in Rome, Italy. This brother and sister team started to dance together in 1996 at the age of 5 and only after one year of training they entered their first competition in Recanati, Italy where they placed first. Since then, they have been competing together for 25 years achieving great results all over the World. Lucas and Krizia have been Italian Champions and finalists for several years and they were representing Italy in many World Championships and European Championship. At the age of 13 they their first title of Vice World Champions. In the same year they also won one of the most prestigious competition in London, The International Ball-room Championships. In 2013 they decided to compete in several competitions in United States and decided shortly after to make the move and relocate to USA permanently to represent the country, travel and compete all over the World in all major Ballroom competitions. After 1 year they placed 3rd at the US National Championships and for many years they placed consistently in the Finals. In 2019 they became US Vice Champions as Professional Rising Stars.
DANCE COUPLES
Mykhailo Azarov & Anastasia Kuzmich
Manuel Favilla & Natalia Maidiuk
Kevin Ubillus & Milagros Lareto
Luca Balestra & Krizia Balestra
Clifton Sepulveda & Mar Martinez
PROGRAM (45-55 minutes, without intermission)
Foxtrot Performed by The Professional Dancers of the Fred Astaire West Palm Beach Dance Studio
International Style Samba Performed by Manuel Favilla & Natalia Maidiuk
American Smooth Viennese Waltz Performed by Mykhailo Azarov & Anastasia Kuzmich
American Rhythm Bolero Performed by Kevin Ubillus & Milagros Lareto
International Style Tango Performed by Luca Balestra & Krizia Balestra
International Style Jive Performed by Manuel Favilla & Natalia Maidiuk
Viennese Waltz Performed by The Professional Dancers of the Fred Astaire West Palm Beach Dance Studio
Theater Arts Performed by Clifton Sepulveda & Mar Martinez
American Rhythm Mambo Performed by Kevin Ubillus & Milagros Lareto
American Smooth Foxtrot Performed by Mykhailo Azarov & Anastasia Kuzmich
International Style Paso Doble Performed by Manuel Favilla & Natalia Maidiuk
International Style Waltz Performed by Luca Ballestra & Krizia Ballestra
American Rhythm Cha Cha Performed by Kevin Ubillus & Milagros Lareto
Theater Arts Performed by Clifton Sepulveda & Mar Martinez
Swing Performed by The Professional Dancers of the Fred Astaire West Palm Beach Dance Studio