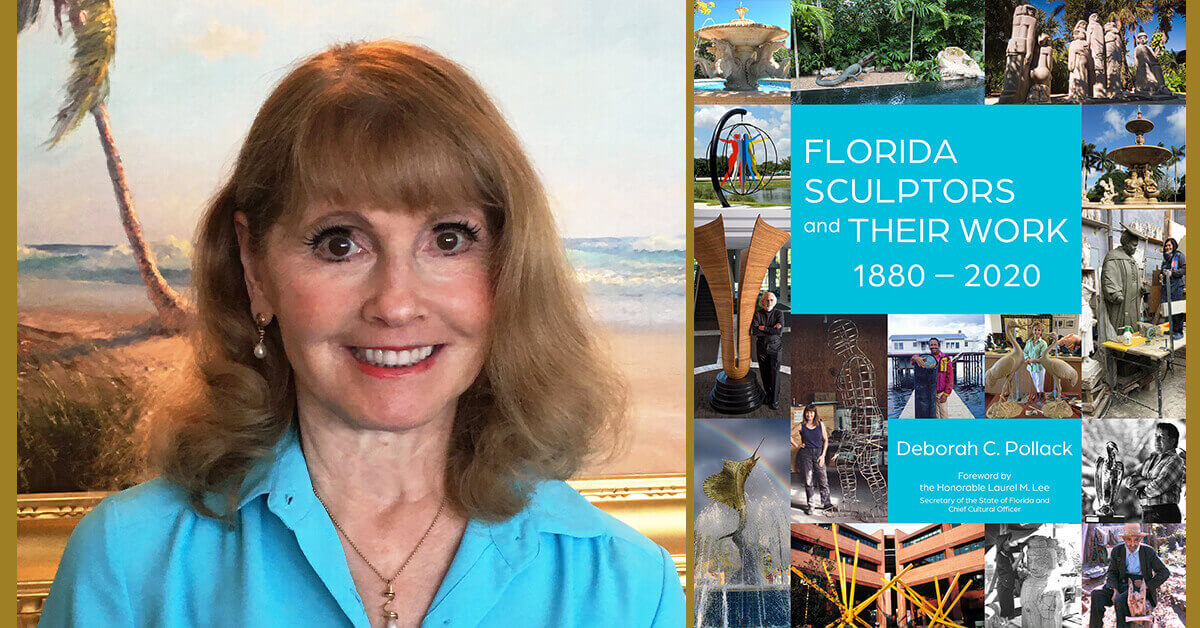 Wednesday, February 8, 2023
No charge
Reservations Required
Virtual option available but no recording will be available after the event.
The first study of its kind, featuring over eighty important artists who have lived in Florida.

With its natural beauty, distinctiveness, and warmth, Florida has attracted an abundance of artists for centuries. While fine painters have been featured in art books about the state, little has been written about important sculptors who have adopted it. To remedy the dearth of literature on the subject, Florida Sculptors and Their Work: 1880–2020 is a tribute to these diverse artists who have enchanted, amused, saddened, or outraged us.
Capturing the Sunshine State's essence, this well-researched and generously illustrated volume tells the fascinating stories of these creative people and reveals secrets behind their three-dimensional art—from realistic to abstract to folk art. Discover how Florida has inspired such world-renowned artists as Augusta Savage, Duane Hanson, Richard Anuszkiewicz, John Chamberlain, and Robert Rauschenberg, as well as lesser-known yet highly praised sculptors who have enhanced collections throughout the world and changed the state's profile with their iconic public art.
This indispensable resource is a must-have for those interested in Florida's art, history, and culture.
Biography: South Floridian Deborah C. Pollack graduated with honors from Temple University with a degree in art history. A former actress known as Deborah Courtney, she performed on CBS's daytime drama Love of Life and also appeared in numerous commercials. Her books include Visual Art and the Urban Evolution of the New South, Palm Beach Visual Arts, Orville Bulman: An Enchanted Life and Fantastic Legacy, Felix De Crano: Forgotten Artist of the Flagler Colony, Bad Scarlett: The Extraordinary Life of the Notorious Southern Beauty Marie Boozer, Vintage Miami Beach Glamour: Celebrities and Socialites in the Heyday of Chic, and Laura Woodward: The Artist behind the Innovator Who Developed Palm Beach, which won a women's history award from Florida Memorial University (HBCU). Pollack's essays are featured in such books as the New Encyclopedia of Southern Culture and Central to Their Lives: Women Artists in the Johnson Collection. Her articles have appeared in periodicals including the American Art Review, New York History Review, Tequesta (scholarly journal of HistoryMiami), Antiques and Art Around Florida, and Tustenegee, the journal of the Historical Society of Palm Beach County. She lives in Palm Beach with her husband, and together they run a Worth Avenue art gallery.
Florida Voices is generously supported by the Fred J. Brotherton Endowment for Literature, established at The Four Arts by the Fred J. Brotherton Charitable Foundation. Fred Brotherton, who died in 2003, was for many years a Benefactor of The Four Arts and a strong supporter of its programs. Florida Voices, featuring the state that was Mr. Brotherton's winter home, serves as a continuing memorial to this much-respected member of The Four Arts.